Glass Gallery

Click on any image below to enlarge it.


Copyright © 2011 Carol Wojtkun Antiques. All Rights Reserved.

Chestnut Bottle - New England

Free blown Chestnut Bottle with open pontile - Olive Green in excellent condition

$425

Snuff Bottle

Circa 1850

This snuff bottle has its stilt marks on the bottom - Stoddard CT - Height 4 1/4"

$150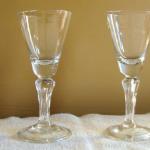 Four Silesian Stem Wine Glasses

Circa 173o's

Assembled set of wine glasses with conical bowls, solid base, three have eight-sided pedestal stems one has six-sided pedestal stem and flattened knop above stem - Height 5 3/4"

$1,550