Furniture Gallery

Click on any image below to enlarge it.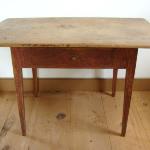 Tap Table 

Maine, Circa 1800

This Birch and pine tap table has a rectangular one-board scrubbed top with breadboard ends set on a plain apron with drawer of dovetailed construction. The apron and gracefully taperedlegs are joined by mortise, tenon and peg; and are in the original red paint.    

Height 27" - Width 44" - Depth 27"

$2,000

Hanging Cupboard

New England, Mid 19th Century

This salmon and mustard paint decorated mid 19th Century cupboard has two flat paneled through-tenoned doors and applied cornice molding.

SOLD

Tavern Table

New Hampshire, 18th Century

This Maple and Pine 18th Century New Hampshire tavern table has a rectangular breadboard overhanging top on four square chamfered legs joined by a straight skirt and box stretchers - original painted surface.

36"W x 26"D x 24 1/2"H

SOLD

Copyright © 2011 Carol Wojtkun Antiques. All Rights Reserved.

Blanket Chest

New England, Circa 1750 - 1800

New England 6 board blanket chest with nailed joints, cotter-pin hinges in original red paint. Its plank sides are scroll-cut to create the common leg form.       42"W x 17 3/4"D x 23 1/2"H

SOLD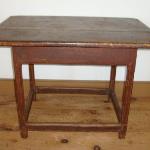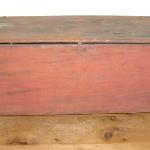 Blue Painted Hanging Cupboard

New England, Circa 1830 - 40

This early 19th Century New England blue painted hanging wall cupboard has double raised panel doors & applied cornice molding.

31"H x 7 ½"D x 26 ½"H

SOLD