Everyday Objects Gallery

Click on any image below to enlarge it.

Liquor Shipping/Storage Box, New England Pine box in dry original blue painted surface. Spirits were commonly shipped in hinged-lid cases, which were usually preserved as storage chests. Inside dividers missing.   Circa 1760 - 1800

 18 3/4"W x 13 3/4"D x 12"H

SOLD

Leather Wall Box, wonderful little 19th Century leather hanging wall box.

SOLD

Copyright © 2011 Carol Wojtkun Antiques. All Rights Reserved.

Pine Watch Hutch, scalloped top and original glass. 19th Century

Height 11" - Width 6" - Depth 2 1/4"

$595

Wig Stand, early New England 19th Century Wig Stand in original Red Paint.

$275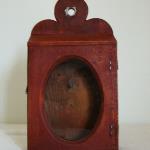 Pipe Case, wonderful little wooden pipe case with cleaner.  7 3/4" long

SOLD